Location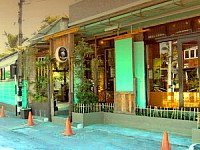 60 Blue House is within easy walking distance to as many beautiful temples, 2 minutes away from Chiang Mai Gate,
fascinating markets and good restaurants serving both Thai and International food, as you could possibly need.
Chiang Mai is also a great place for learning to cook Thai food, practice Thai massage, talking a yoga class or having a once in a lifetime trip to see elephants and tigers. The choice is yours !